Long Day Lay Me Low Pin & Patch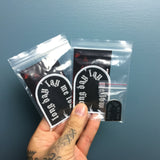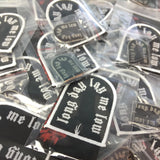 Description
1.5" silver and black hard enamel pin & 2" woven patch.
Inspired by a mutual love for DOWN and a hatred for cancer, we have teamed up with Holy Mountain Printing to create this pin/patch set for our friend Josh who was recently diagnosed with Stage 3 Grey Zone Lymphoma. 100% of sales will be donated to help Josh get out of the grey zone.
If you're not a fan of pins and patches but want to help a really awesome dude, check out the gofundme that's been set up to help pay for chemo and treatment HERE!