Earth Planet Tour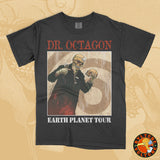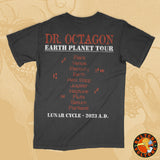 Description
Screen printed full color front and 2 color back on black Comfort Colors shirts.
In stock and shipping! 
Hello this is the offices of Dr. Octagon. If you have insurance or medical problems I'm here for you for any type of intestine surgery rectal rebuilding relocated saliva glands, and chimpanzee acne! And of course moose bumps.
You can call 1-800-PeePee-5-1-DooDoo. I'm in your corner.